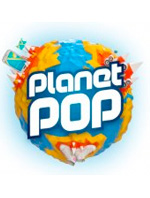 All Around The World is making its first foray into pop music TV with the launch of new channel Planet Pop.
The move follows a "rebalancing" of the music TV offering from Universal's Blackburn-based company, which owns the label behind N-Dubz and the successful dance compilations franchise Clubland.
The new TV channel will appear on Sky 370 and 511 on Freesat and the channel's programmer and controller, AATW TV chief operating officer Simon Sadler, said it will play a strict diet of pop aimed at a core audience of 16-24 year olds.
"I'm talking about Katy Perry, Taylor Swift and One Direction," said Sadler. "Pop is by far the biggest genre and it is what people want from music TV. Planet Pop should be our big mainstream channel and it is an obvious place for us to go."
The new music TV channel will be run alongside existing AATW-owned and operated stations Channel AKA, Greatest Hits and Clubland TV, which also sit on the Sky spectrum and each boasted an average quarterly reach of nearly 1m 16-34 year olds in 2012.
In a further move AATW's Massive R&B will be wound down and its repertoire shared between Channel AKA and Planet Pop.