adbreakanthems.com doesn't just celebrate the music heard in the UK's top TV commercials.
It also seeks to showcase the publishing, recording and advertising industry professionals – as well as the artists and composers – whose work makes British television advertising some of the most imaginative and memorable in the world.  As home of the monthly email newsletter thesyncsurvey, www.adbreakanthems.com is also a unique information source for professionals in the sync and branding sectors.
By identifying the master rights holders, music supervisors and ad agencies involved in the soundtracks to all the latest TV ads, thesyncsurvey hopes to provide everybody in the sync supply chain with the knowledge to unlock potentially lucrative new business opportunities.
adbreakanthems.com is edited by noted music journalist and broadcaster Chas de Whalley who spent 10 years in the A&R departments of major record and publishing companies before joining industry trade paper Music Week as Features Editor and then Head of Information Services in 1994.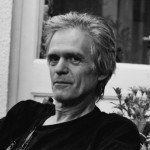 Chas began to write on TV ad music in specialist consumer magazine Record Collector in 2005 and finally launched thesyncsurvey as a B2B newsletter in 2011.
As a freelance writer Chas has contributed to The Guardian, NME, Kerrang!, Time Out, Mojo, Classic Rock, Record Collector, Music Week, Audience and Live UK. He has also authored reports, guides and surveys for trade bodies such as The British Phonographic Industry (BPI), The British Library National Sound Archive (NSA) and the Welsh Development Agency (WDA).
As Head of UK A&R for CBS (now Sony) Records' Epic label, Chas produced the first two singles by fledgling Irish supergroup U2 and was instrumental in signing and developing chart topping Eighties acts Shakin' Stevens, Adam and The Ants and Paul Young.