UK TV Advert Song & Music Database
"For everything you need to know about the music used in today's biggest TV campaigns"
adbreakanthems.com is UK's only online information service dedicated to the business of syncing music to TV adverts.
We give users a unique opportunity to examine the entire UK sync sector from the inside out in order to increase their chances of winning valuable sync licences.
On a daily basis adbreakanthems.com' data research teams, led by leading music industry journalist and researcher Chas de Whalley, publishes a comprehensive breakdown of the key companies involved in the creation of over 60 new commercials a month.
example advert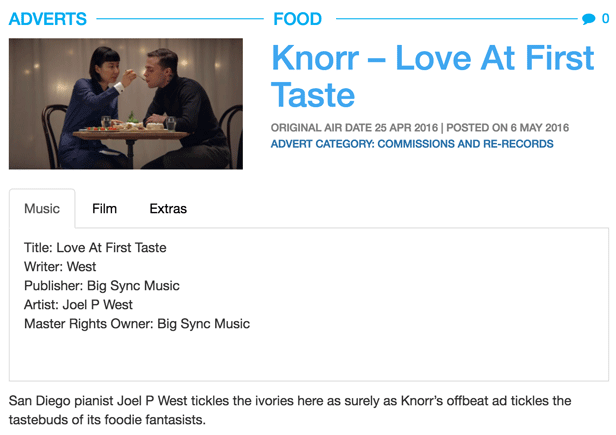 Our data suite also includes a comprehensive music tagging system, which pinpoints the genres, country of origin, vintage and many more fields for over 2,500 tracks held in the adbreakanthems archive.
Brand / Product
Spot Name
Music Title
Composer Credits
Music Publisher
Artist
Record Company
Music Supervisor
Advertising Agency
Agency Creative(s)
Film Company
Film Director
Post Production Company
Air Date
You Tube Link
With this information at their fingertips adbreakanthems subscribers can more accurately identify the sounds and styles favoured by market sectors and brands – and so make better-informed and more cost-effective choices when pitching songs to music supervisors and advertising agencies.
A full subscription to adbreakanthems.com costs £40 a month representing £480 a year payable in advance. To sign up please use the payment forms below to pay online, or if you'd rather pay by BACS / Invoice please contact subscriptions@adbreakanthems.com
and we will be happy to discuss your requirements.
SPECIAL OFFER! SIGN UP NOW AND GET TWO MONTHS FOR FREE!
From now until September 2016 we are glad to be able to offer new subscribers the chance to sign up at the discounted rate of £400 per year
To take advantage of this offer use the discount code SUMMER2016 in the payment form below or quote it in your email to subscriptions@adbreakanthems.com
To subscribe, please use the form above to pay online or if you'd rather pay by invoice / BACS email us at subscriptions@adbreakanthems.com