Of course there is no doubting the way a good sync can fuel a rocketing chart career. But there is certainly no way that a spot in a spot will automatically light the blue touchpaper under every track lucky enough to get one.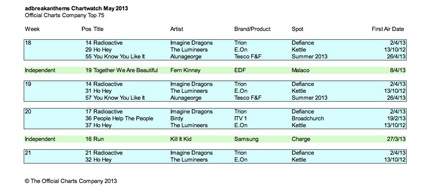 Which sort of gives the lie to some players out there in sync land who espouse the idea that rights holders should be ready to reduce or waive their fees – or maybe even actually pay advertisers – for the privilege of having tracks included in top campaigns.
And if proof of the pudding were in the eating then you only need to chew on last month's UK sales charts to get a true taste of reality. Across the four weeks since we last reported on them, the Official Charts Company's Top 75 – and its independent Top 20 ranking – have registered a paltry six titles which have also appeared in adbreakanthems' thesyncsurvey listings.
Of those, one is the now ubiquitous Ho Hey by The Lumineers which has been in the upper echelons of charts for almost six months and still shows no sign of slipping out of the Top 40. It won't be long, we suspect, before they'll start teaching modules in music management courses based on this one.
Time alone will tell whether the alternative rock sound of Las Vegas' Imagine Dragons, whose Radioactive made its commercial break debut promoting the computer game Defiance back at the beginning of April, will prove as popular with UK music buyers as their afore-mentioned Denver, Colorado cousins. Nevertheless it too was beginning to look like something of a fixture in the top 20, until it slipped out by one place last week.
Mind you, such is the way of the world these days that it's just as likely to jump back in again by the time you get to read next month's Chartwatch.
Indeed, given the fact that both North American acts were long designated major priorities by their respective Universal labels (Decca and Interscope), it could well be argued that they would both have been big hits regardless of whether they were synced or not – although the adbreak bounce certainly won't have done them any harm.
Likewise Alunageorge's You Know You Like It clearly received something of a shot in the arm from being included in a sultry spot for Tesco's F&F Clothing range. However it is worth noting that it's actually one of three tracks by Universal – Island's hot shot UK urban pop duo to grace the charts in advance of their debut album Body Music which is scheduled for release in July. But it's also the one which has fared the worst chartwise, dropping out a mere two weeks after debuting at number 55.
To get a more accurate measure, then, of who really gets the benefit when a song gets licensed for an ad or a trailer in 2013, shouldn't we look elsewhere? To the fortunes, perhaps, of those tracks like old school R&B specialist Malaco Records' charming Together We Are Beautiful – the forgotten 1980 chart-topper by Fern Kinney – and Run, a piece of off-the-wall rock by current One Little Indian signings Kill It Kid. It's a sad fact that both have been unable to cross over from the independent to the official chart despite adding emotional resonance and excitement to particularly eye-catching spots for EDF and Samsung TV's respectively.
So the idea of asking these two labels – and the publishers involved in the titles – to pay for the role they have played in bringing these two commercials to life? Isn't that vaguely insulting?